HOLY CROSS YOUTH MINISTRY
Our Goal...
The goal of our Youth Ministry is to provide opportunities for you to:
CONNECT TO JESUS' LOVE -- We believe connecting is important! We encourage our teens to connect to God through worship, study, prayer, and fellowship with one another. We inspire our teens to connect by participating in Christian community and experiencing Christ' love, mutual support, and encouragement with each other.
GROW IN JESUS' LOVE -- We believe growing is important! We provide teens many opportunities to grow in their relationship with God by studying His Word in the Bible. Our youth ministry is a place where you can hear about God for the first time as well as continuing to grow in faith after many years as a Christian.
LIVE OUT JESUS' LOVE -- We believe that living out our faith is important! We offer teens lots of opportunities to live out their faith through service to others. Some ways this happens is by getting involved in ongoing ministries through local service projects or through special youth mission trips (like Duluth).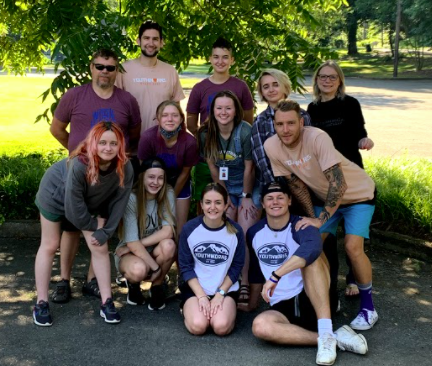 THE MISSION TRIP!
Holy Cross is set to head out for Nashville, TN from June 4th - 9th.
We will have a send-off at the Holy Cross lower parking lot at 10am to take pictures and say goodbye with prayer.
The outreach activities for the week are Gardening (beautification), Community Center (games, sports, crafts, etc.), Thrift Store (stocking, cleaning, etc), and Care Fellowship (vacation bible school activities).
Contact Kevin McCracken if you have any questions kevin.mccracken@gmail.com
Packing List Nashville
The best way to stay up to date on youth-related events and receive youth group updates is by checking the
youth calendar
.
FOLLOW US ON SOCIAL MEDIA