HOLY CROSS CHOIR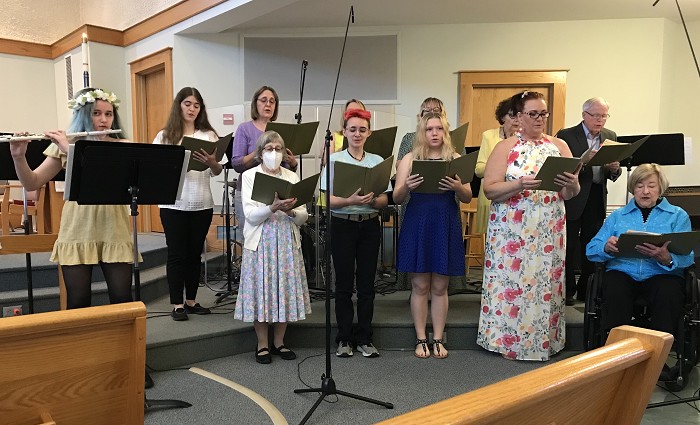 The choir has returned after being on a hiatus during the pandemic!
The Holy Cross choir is a multi-age and multi-generational choir. Our singers range from teenagers to Senior Citizens and we have, at present 3 sets of mother and daughter duos. The choir sings mostly SAB music arrangements. We sing on major feast days of the church year at the Traditional Service and occasionally in combined services with the Praise Band.
The Holy Cross choir program is structured around four yearly projects including:
1. Ash Wednesday, Palm Sunday, Maundy Thursday and Easter Sunday.
The three other choir projects include:
2. Pentecost and Trinity,
3. Reformation and All Saints Sundays,
4. One Sunday in Advent (possibly singing a cantata) and Christmas Eve.
Three or four rehearsals are set up for each project. Because of our structure around the major feast days the choir does not meet every week. However, the approach that has been taken has benefits. At most a choir member commits to a month (3-4 rehearsals and 2 Sundays) and is free to not sing for the next project.
The choir is open to all. Contact Jack Hamill, Choir Director. Pho # 636-397-6406 or e-mail: jhamill376@gmail.com