GROUPS & MEETINGS
HOLY CROSS ADULT EDUCATION
Meetings will be between services at 9:45AM in New Fellowship Hall.
Facilitated by Mike Prange
The Focus will be on God's Word – Scripture and how it shapes our thinking on the concerning issues of today.
January 2023 – END of LIFE ISSUES
February 2023 – DEATH, RESURRECTION, & LIFE AS A CITIZEN & A CHRISTIAN
March 2023- WOMEN's RIGHTS
This will be a place to come and understand the sides and hear God's Word amid the confusion in our culture… we will come together not to argue or interrupt each other, but to hear the challenges – what does pro and con mean and most importantly, how does God give guidance in the Bible! Don't forget to bring your Bible!
---
SUNDAY SCHOOL
Time: 9:45 AM
Location: Sunday School Hall
Contact: Kari Brangan
Sunday School will occur every Sunday.
Time: 9:45 AM & 5:00 PM (alternating every other Sunday)
Location: Conference Room
Confirmation will occur every Sunday
.
---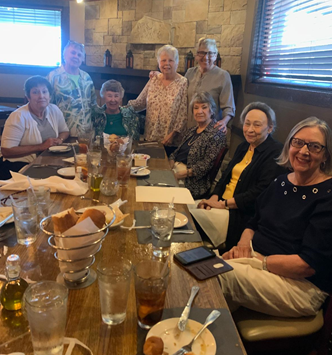 Date:
2/2/2023
Time: 12:30 PM
Location: Spiro's (indoors)
1054 N Woods Mill Rd
Chesterfield, MO 63017
Topic:
Kindness
Join us for more interesting dialogue and yummy lunch & dessert. Make sure you take a little time to find a few interesting things to share about our topic!
If you would like to join us, leave a message for Sandy Kalin at
314-628-1199 and she will call you back.
---
We ZOOM weekly so you can be a part of it from anywhere!
ALL ARE WELCOME!
Time: 10:00 AM
Location: Meeting on Zoom and in Library
Contact: Pastor Janice
913-226-3334 or
janiceahawley@gmail.com
Click here to join meeting
Meeting ID: 978 390 2529
Passcode: 255236
---
PRAYER SHAWL MINISTRY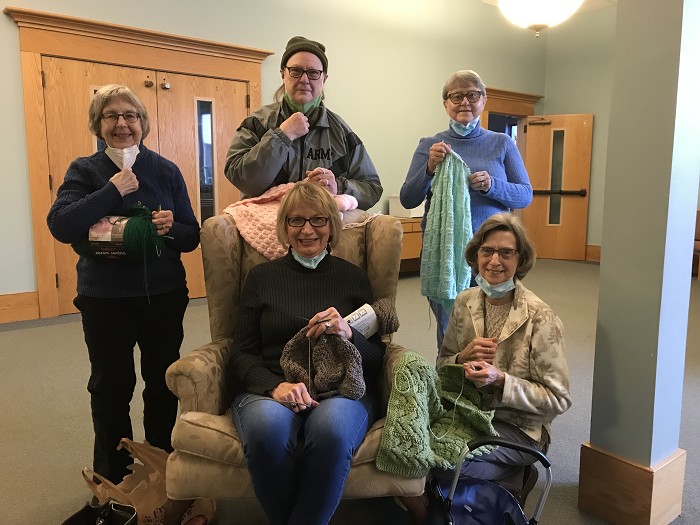 2nd & 4th Thursday every month
Time: 10:00 AM – 12:00 PM
Location: Holy Cross Narthex
CALLING ALL KNITTERS & CROCHETERS TO COME AND JOIN THE FUN!
The members of our Prayer Shawl Ministry create handcrafted shawls and lap blankets for anyone in need of comfort and prayer. A blessing is offered before the shawl or lap blanket is sent on its way. It is our hope that those who wear their shawls or use their lap blankets will feel the love that goes into making each and every one of them.
This group is open to everyone! If you already have the skills...GREAT! If you want to learn, there are plenty of expert helpers to get you started so you can help us fulfill the mission of spreading God's love through prayer shawls and lap blankets.
Contact: Susan Rockwell
---
MEN'S BIBLE STUDY
Date: 1st & 3rd Monday each month
Contact: Clarence Jentes at 314-255-7551
or Mike Prange 314-620-5509
If choosing in-person, meet at Holy Cross before 7pm to start the study on time.
Meeting ID: 9352733512
Password: 367652
---
Date: 2nd Monday of the Month
---
Date:
Every Sunday
Time:
after 8:30 AM service
Location: New Fellowship Hall
Once 8:30 AM Sunday service has ended, grab a cup of coffee & bagel and join us for our fellowship time.
---
Meets Every Quarter
Time: 6:30 PM

---
HOLY CROSS' WORSHIP R & R TEAM MEETING
Location: on ZOOM
Join Zoom Meeting
Meeting ID: 841 2968 7607T
Passcode: WORSHIP
One tap mobile
+16469313860,,84129687607#,,,,*8460927# US
+13017158592,,84129687607#,,,,*8460927# US (Washington DC)\
---
VISION TEAM MEETING
For the month of February, the meeting will be the SECOND
Wednesday of the month on the 8th at 7 pm in Church library.
---
GREEN TEAM AT HOLY CROSS - a formation meeting
DATE: 1/25/2023
TIME: 6:00 PM
LOCATION: Holy Cross Library
(Zoom Meeting also available)
Topic: HC's GREEN TEAM - Zoom Connection

Time: This is a recurring meeting Meet anytime - so Jill - you can use it as
needed for future meetings, too.
Join Zoom
Meeting
https://us02web.zoom.us/j/84762457811?pwd=OWlQenRkeFM2VEJoeFRJclFVeHVpQT09

Meeting ID: 847 6245 7811

Passcode: BEGREEN

One tap mobile

+13052241968,,84762457811#,,,,*6686549# US

+13092053325,,84762457811#,,,,*6686549# US